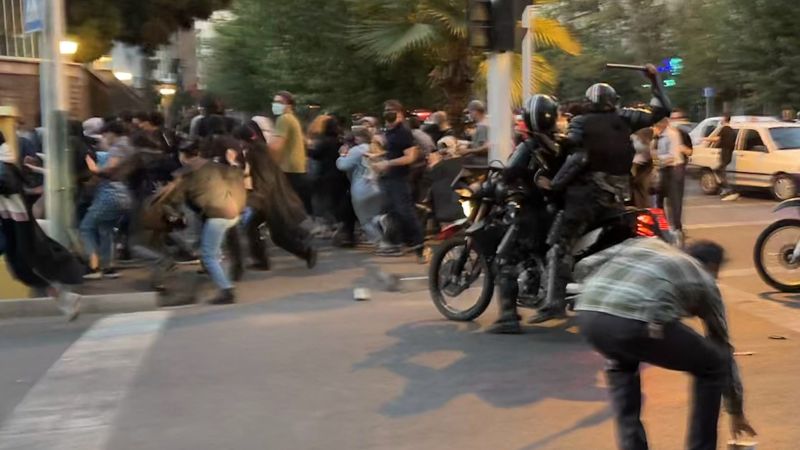 CNN
–

Arman doesn't sleep much anymore.
"In my nightmare I see someone following me in the dark," she said. "I am alone and no one is helping me."
He says his life was changed forever in early October when he was arrested on the streets of Tehran for participating in anti-government demonstrations and then tortured for four days by the Iranian Revolutionary Guards (IRGC), known as Sepah.
He told CNN that the abuse was psychological and physical, including electric shocks, controlled drowning and mock executions.
The 29-year-old said he was held in solitary confinement and was placed in a room with about two dozen protesters, including a woman with her face and neck cut off, who said she was intermittently beaten and eventually sexually assaulted by security. forces.
Renamed for his safety, Arman says he saw the IRGC emblem on a table and also on the uniform of one of the men guarding him – but he says he doesn't know exactly where the headquarters is in Tehran because he doesn't know exactly where it is. She was shocked and lost consciousness before being driven there.
Arman alleges that to get out of the detention center, he was forced to sign a false confession that he had received money from the US, UK and Israeli governments to go out and create "chaos" in Iranian society. He was later told that if he did more "activism", he and his family would be caught and arrested.
What he claims to have happened to Arman and that he was taken into custody with him is not an isolated incident. Instead, it's part of a tried-and-tested playbook that the Iranian government uses to stalk, torture and imprison protesters in an ongoing campaign to crush political opposition.
In the months following Iran's nationwide demonstrations in 2019, sparked by the government's sudden decision to raise the price of gas by 50%, but turned into calls for the fall of the Islamic Republic and its leaders, widespread reports of torture, and thousands of arrests. documented.
It seems to be happening again, as Iranians from all walks of life unite to fight for their civil rights, first last month in protests sparked by the death of a young woman in the custody of the religious police.
"We're in the worst time of our lives right now. It's full of stress. It's full of fear," a 24-year-old female protester told CNN. She tells several friends that she was tortured and sexually harassed after she was detained by the Revolutionary Guards in Rasht last month.
"Nothing has happened to me yet and I managed to escape. But it is always possible," he said.
CNN spoke to nearly a dozen Iranians who shared first-hand stories of torture at the 2019 and 2022 protests, or the deaths or disappearances of loved ones while in the custody of the authorities.
Some of those affected have shared photos documenting their injuries, as well as court records detailing the criminal charges they faced; others only shared stories that CNN could not independently verify.
CNN has contacted the Iranian government and its permanent mission at the United Nations regarding the accounts of torture and arbitrary detention detailed by the protesters, but has yet to receive a response.
Farhad, 37, a father of two, understands all too well the personal cost of raising his voice against the Iranian government, but that hasn't stopped him from participating in the seemingly ongoing demonstrations that have been going on for more than a month. Transcending Iran's social and ethnic divisions.
He says he saw several of his friends die on the streets of Tehran after he was shot by security forces during the November 2019 protests. According to Amnesty International.
By 2 December after the bloodshed, Farhad said plain-clothes officers kicked his door in the middle of the night to arrest him for his participation in the demonstrations.
Farhad, whose name was also changed for his safety, said the IRGC used footage of the protests from the BBC – which he has since shared with CNN – to identify him, effectively weaponizing the rallies' media coverage to hunt down participants.
He claims to know that he was tortured for a total of 16 days and was led by the Revolutionary Guards because of a sign on one of the walls of the Tehran detention center where he was held like Arman, displaying his distinctive emblem.
According to Farhad's account, several hundred people were detained and tortured with him. He still hears her screams.
"Hundreds of people were imprisoned with me. There was a bed, people were attached to it and harassed. "The rapes were torture with electric shocks and boiling water… they were hanging people from the ceiling to beat them," he said.
Farhad's last memory in that darkroom is when he was hanged and senselessly beaten by plain-clothes officers, driven to an undisclosed location, and thrown to the side of the road before being thrown in the back of a car.
He said he woke up days later in a medical clinic near his home in Tehran. He doesn't know how he got there, but cites an extended family member with ties to the Iranian government as a possible reason for his life being spared.
"My teeth are broken; My lip was completely torn. Because my bleeding is so heavy [think] They didn't expect me to survive."
CNN reviewed photos of Farhad's injuries and the scar he suffered today.
Farjad has since left Tehran with his immediate family for their safety, but said he still received late-night calls from Iranian officials threatening to rape his wife and kill his children, and that his bank account was periodically frozen.
He also claims that in the months after the torture, the national identity card, the primary document used to access essential services in Iran, was deleted from the system.
Despite the ongoing risks to his life and livelihood, Farhad's dedication to current shows is unwavering.
"My country and my people are suffering. The government of the Islamic Republic is oppressing in the name of religion, I can't see people [being] now they are being killed for their beliefs," he said.
CNN spoke to four more protesters who were tortured while in custody and later imprisoned for participating in anti-government demonstrations in 2019 – including a young single mother who says she had to put her son in the care of her parents in order to serve. The 43-year-old father of two from Shiraz, who said he suffered from acute post-traumatic stress disorder after 48 days in solitary confinement.
All of their accounts share striking similarities, particularly the ongoing harassment their families say they face from Iranian officials through fake social media accounts, late-night phone calls, and local informants they believe are spying on them for the Revolutionary Guard intelligence service.
Amin Sabeti is an Iranian cybersecurity expert and has spent years working on hacking groups with ties to the Islamic Republic, including the 'Charming Kitten' group of the Iranian Revolutionary Guard Corps. ransomware and cyber espionage."
According to UK-based Sabeti, after government-backed hackers infiltrated their online group using fake accounts, they "asked to share their photos on Twitter, Instagram or Telegram and ask others to share information about them", pretending to be concerned about their safety.
"They used the same tactics in the November 2019 uprising," Sabeti explained, leading to more tech-savvy demonstrators spotting suspicious accounts and distributing alerts across their networks.
In Tehran's Ebrat Museum, a former prison, dramatic displays of the atrocities perpetrated against Muslim clerics by Shah Mohammad Reza Pahlavi's police during the revolution have long been used as a propaganda tool to celebrate the "freedoms" won in the Islamic Republic.
Still, Iran's Supreme Leader Ayatollah Ali Khamenei and his security apparatus, imprisoned during the Pahlavi reign in the 1970s, have a decades-long legacy of using mass arrests and torture to control and silence political dissidents. not lost in protesters today.
The current women-led and inspired movement has united generations of emerging Iranians as the greatest threat the regime has ever faced. In particular, it has also survived weeks of internet outages and severe repression.
But more than 1,000 people were arrested as slogans of "women, life, freedom" continued—a rally cry to control daily violence and Iranian women's revolt, according to state news IRNA.
Going forward, analysts and exiled activists CNN spoke to fear that authorities will eventually use the tactics of violence they deem necessary to regain control once again.
According to Amnesty International, nearly two dozen children – some aged 11 – were killed during demonstrations in September by Iranian security forces as a chilling reminder that no lives will be spared. Meanwhile, Iranian Education Minister Yousef Nouri confirmed last week that student protesters had been detained in what he called state-run "psychological institutions".
None of the Iranians CNN spoke to was naïve to the fact that their own lives and the lives of their families were in danger as the uprising raged, and many went to extreme lengths to protect their personal information online and avoid unnecessary risks. spills into the streets.
Arman still receives threatening phone calls and texts for his activism, but says he will not be deterred.
"They torture us and lie to the world, to the international community… Iranians want freedom," he said. "We don't want a dictatorship. We want to connect with the world."
.