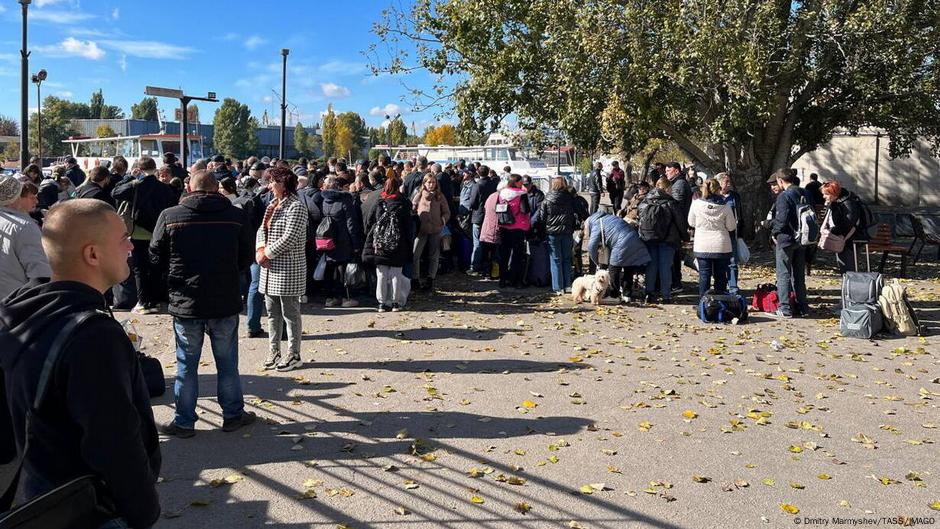 Ukraine has accused Russia of orchestrating the "mass deportation" of residents of the Kherson region, which had been illegally occupied for months and annexed after a bogus referendum in late September.
Moscow declared martial law in eastern Ukraine and said it was "evacuating" residents while firing missiles across the country.
"Putin's martial law in the annexed areas of Ukraine is in preparation for the mass deportation of the Ukrainian population to the oppressed regions of Russia in order to change the ethnic composition of the occupied territories," said Oleksiy Danilov, secretary of the Ukrainian National Security and Defense Council. said Wednesday.
Sergiy Khlan, deputy of the ousted leader of the Kherson region, accused Putin of trying to create panic in the region for propaganda purposes.
He said the relocation of residents, which he called "equivalent to deportation", was used by Moscow as an excuse to justify Russia's "withdrawal from Kherson and more generally from the right bank" of the Dnieper River.
Vladimir Saldo, the new head of the Kherson region in Moscow, told Russian state television that his administration would move east of the Dnieper.
Russian officials said about 5 million Ukrainians have moved to Russia since the invasion in February.
Here are the other main headlines from the war in Ukraine on October 20.
Russia may 'reconsider' working with UN chief on drone inspections
Dmitry Polyanskiy, Russia's deputy envoy to the United Nations, said on Wednesday that Moscow could "reassess" its working relationship with UN Secretary-General Antonio Guterres if the UN chief continues to examine the drones recovered by Ukraine.
Ukraine this week invited UN experts to examine some downed drones allegedly supplied by Iran to Russia. Guterres reports biannually to the Security Council on the implementation of the 2015 Iran nuclear deal, and an assessment of Iranian drones in Ukraine will likely be included in this report.
Iran and Russia say the UN does not have the authority to inspect drones seized by Ukraine.
Speaking to reporters after a Security Council meeting on Moscow's use of drones on Wednesday, Polyanskiy urged Guterres to "avoid any illegitimate investigation".
Otherwise, we will have to reevaluate our cooperation with them, which is in no one's interest," he said. "We don't want to do this, but we will have no choice."
Russia 'not optimistic' about maintaining grain export deal
An agreement allowing Ukraine to safely export grain through Black Sea shipping channels will expire on November 22, and Russia's deputy envoy to the UN said the agreement may not be renewed.
Dmitry Polyanskiy on Wednesday said he was "not optimistic" about renewing the deal and claimed that Russia's grain and fertilizer exports were blocked.
Asked whether the grain deal would be threatened if the UN sends experts to inspect drones shot down in Ukraine, Polyanskiy said: "I have not been directly involved so far."
US accuses Russians of exporting military technology
The US Department of Justice accused five Russian nationals and two Venezuelans of exporting military technology and dual-use technology to aid Russia's invasion of Ukraine.
US officials said some of the technology was recovered on the battlefield in Ukraine.
In a separate lawsuit, also filed Wednesday, the United States accused three Latvian citizens and a Ukrainian citizen of trying to export to Russia a vehicle that could potentially be used in nuclear proliferation.
Ukraine to impose nationwide electricity restrictions
Authorities in Ukraine will impose restrictions on electricity use from Thursday, as Russian strikes over the past few days have crippled the energy infrastructure.
Network operator Ukrenergo said the power supply will be restricted between 07:00 and 23:00.
"Today the enemy has again destroyed power generation facilities … it is necessary to minimize the use of electricity," said Kyrylo Tymoshenko, vice-president of the presidential office.
"Everyone must be prepared to save electricity first, and secondly, blackouts are possible if strikes continue," Tymoshenko said. Said.
On Tuesday, Ukrainian President Volodymyr Zelenskyy said that 30% of Ukraine's power plants were destroyed.
Although electricity restrictions were only announced on Thursday, Ukrenergo said, "We also do not rule out that with the onset of cold weather we will be asking you for help more often."
More from DW on the Russian invasion of Ukraine
As the Russian invasion of Ukraine enters the winter, Kyiv is increasingly dependent on international military aid. Jens Stoltenberg met with DW to discuss increasing NATO's support for Ukraine.
A cyberattack recently crashed several Bulgarian government websites. Russian hackers retaliated for Bulgaria's support for Ukraine, experts said. DW examines why Sofia is hesitant to blame Moscow.
zc/sms (Reuters, AFP, AP, dpa)