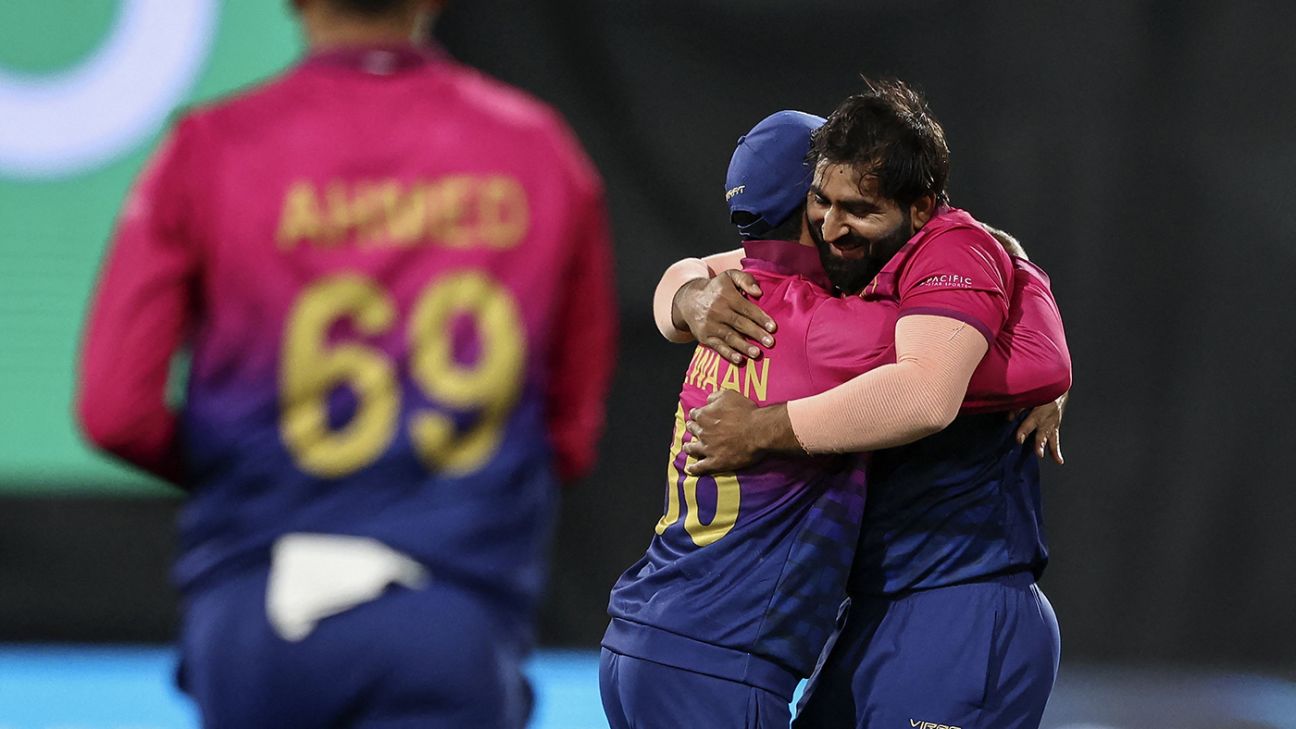 On the surface, Mohammed Waseem is the kind of cricketer you want him to be.
Up until 22.10 Australian Eastern Daylight Time, Waseem had pitched just 22 balls in official Twenty20 cricket. It had three small goals on 22 balls, giving it an impressive 7.33 hit rate. Two of these three wickets were Namibians – one by David Wiese – but still. Its main role on the side is to open it with a stick.
Somewhere between 22.10 and 22.15 Waseem showed up to go bowling in a match that seemed to have UAE in the bag but is now balanced. The momentum came with Namibia's refusal to make Wiese's last game in this tournament. And who knew it would ring again?
Waseem had an extremely short run, and the goalkeeper – just as far behind as he was for the other swifts – seemed either optimistic or unaware. Waseem tiptoed a bit and then let the ball rip after four steps. The first ball is almost a yorker. The second ball beat Ruben Trumplemann and moved comfortably to the goalkeeper. He was like the old pro in the neighborhood who could just show up and do anything. As an opening bat, he had scored half a century before half the day.
This was the 17th. It was seventy-three at 36 and 46 at 24. The last time he was 18. Now even Trumplemann was hitting. And here Waseem wasn't a bowler hitting four feet with a good lick.
UAE is a nice mix. Their crickets are no longer just first-generation guns for hire. Most of his cricketers are domestic. Their histories are diverse. The captains are Malay, the youngest players of Goan descent, the hat-trick heroes are Tamil, the fast bowlers have their roots in Pakistan. The team's language is Hindi/Urdu, but Waseem can speak some of the captain's native language, Malayalam. Unlike their old country, they have no problem playing with each other. They are not insecure. They speak loudly, are expressive and do not hesitate to attack each other on the field. They are also a team aiming for only their second win in all World Cups after their victory over the Netherlands in 1996. So while this was a dead tire for them in terms of tournament play, there was one big point to prove. . To others and to themselves. The world just below the Full Member sides is brutal.
When they landed, Malayalee captain CP Rizwan spotted the pitch and, in consultation with Trinidad/Indian coach Robin Singh, decided they would play an extra spinner and told Waseem he could be called up for a bowling. more or two.
Now domestic T20 cricket in UAE does not qualify as official T20 cricket. So it's easy to miss Waseem doing some bowling on the T20s. Not only bowling, but also bowling in death. He's sure to do it because he's the captain of the club side. Recently in D10 cricket, he defended eight runs in the final. Sometimes he bowls 14, 16, 18, 20. And as he said, he plays every two to three days.
In the UAE team, on the other hand, bowling is "very good" in his words, so he doesn't have to bowl. Now that he's bowling, he had to make it to top pro Wiese, who knew the UAE would need two overs from somewhere and was pretty excited about the idea of ​​playing spins. It can jump over any mistake in length. Waseem missed the fifth and was beaten. This was big time to borrow from the ICC's punchline.
With the sixth ball, Wiese perhaps fell for the lure of short square borders and turned the bat. Waseem settled under the huge top edge, but the ball caught him by the fingers. Waseem was good enough to take a quick shot that would have kept Wiese short if he had rallied and the keeper had returned to the goal.
"I was very upset because I had a hard time dropping catches," Waseem said. "It's very rare that I drop someone. When I dropped him – I was under, I judged, but he caught fingers instead of palm – I thought it was a big mistake, but Zahoor's 19th finish, I regained my confidence."
Born in Faisalabad, about 200km north of Mian Chunnu where Waseem started his cricket, Zahoor Khan was the one who kept the game alive with the yorkers and a fascinating slow ball. It was great throughout his death at the World Cup. His 19th win against the Netherlands – three runs and a goal – created something out of nothing. Against Sri Lanka on the 20th, he conceded three runs and took two wickets.
Zahoor gave Waseem a second wind. He was still confident. "The good thing is, as a death-beating bowler, I justify yorkers," Waseem said. "And the plan was to bowl the yorkers so that even if I missed the length, they had to hit the ground, which is a big hit. I did, and that's what happened to Wiese's wicket."
Expecting to target two overs from the spinners, Wiese was clear when he said he expected a mistake from the half-time bowler. "We didn't really expect him to come, but when he did come – part time at the end of the day – so you expect him to miss one or two but he had a good bowling tonight," Wiese said. Said. "He showed his talent and at the end of the day we didn't have enough in us. Fair game to them, good bowling."
The night ended in tears for Wiese. He sat like a stone at the press conference and didn't look at anything in particular. He promised to return for Namibia at the 2024 T20 World Cup. Rizwan was a reliving man who had gotten that tough first win. "I feel really happy," Rizwan said. "First win for UAE [T20] World Cup. Indeed, this is a proud moment. Really, we can fly better now." Another bittersweet final day of the first round of the T20 World Cup.
Sidharth Monga is associate editor at ESPNcricinfo.
.