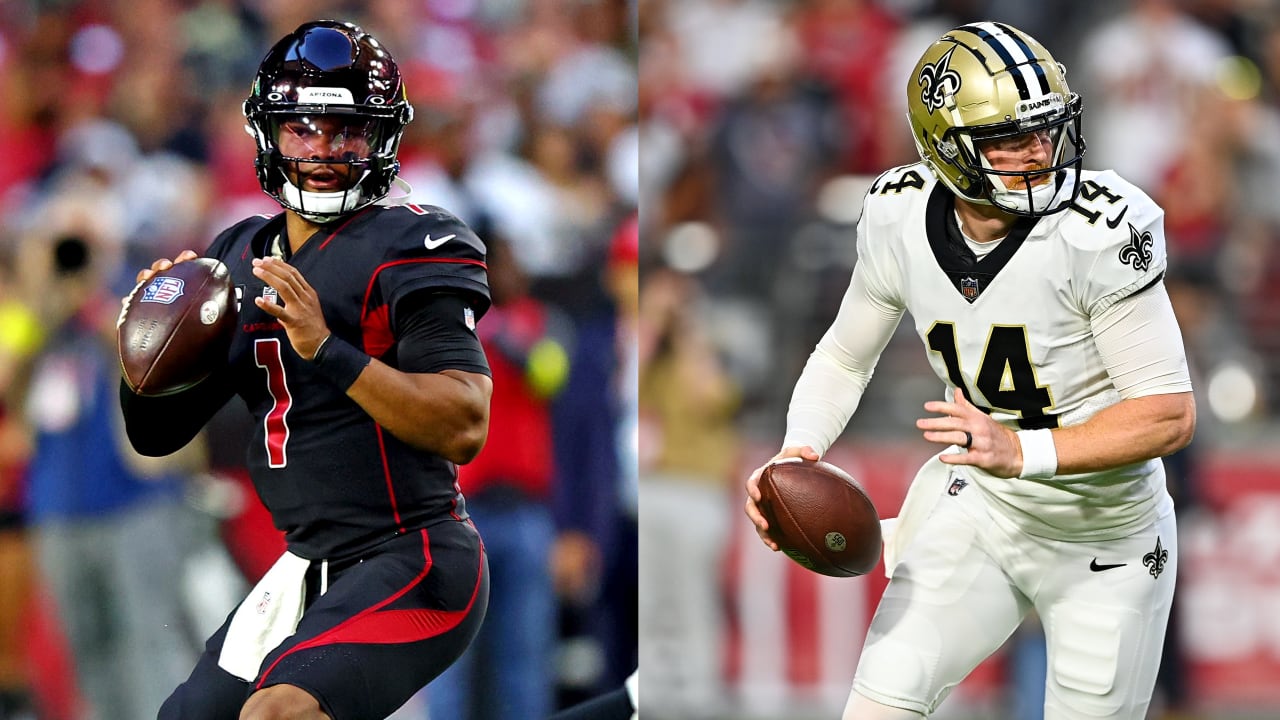 FULL BOX POINTS
The cardinals' slow start is (sort of) fine on a Thursday. Arizona has the honor of scoring just six first-quarter points in seven games, three of which are on Thursday. But at least the Cardinals settled their second-quarter woes for one night. The team came into play in the second quarters, trailing by 48-26 points, but managed to turn a 7-3 lead into a 28-14 first half lead thanks to back-to-back six picks. This won't happen every week, and the Cardinals got bogged down early in the Saints area twice and settled in field goals. In the end it didn't matter. But it was the kind of half-laughter Arizona—and Kyler Murray and Kliff Kingsbury in particular—needed. The Cardinals moved the ball well all night, even as a slain Saints went against the depth chart. Let's put it this way: Can you imagine the reaction if they didn't?
There is no relaxation in DeAndre Hopkins. Hopkins' return came when the Cardinals needed him most. It showed in the way they used it. Hopkins was hit 13 times and took nine passes for 99 yards in an impressive show. He let a few balls come out of his hands (and helmet), which is to be expected for a player who missed the first 35% of the season. But Hopkins gave Murray a safety blanket in longer-distance situations, and it was a welcome sight. And its impact went beyond catches and yards. Late in the second quarter Murray walked off the field shouting angrily at his head coach, and Hopkins was there to soften Murray. One game later, the Cardinals ran and tied the game to a two-point conversion (Hopkins had a hand, calling a defensive hold on the first try).
We think Jameis Winston is getting his job back. Andy Dalton replaced the injured Winston and has performed relatively well in his first three games this season, keeping turnovers (two) and sacks (four) low. There was talk that he might have the opportunity to continue the job even after Winston was deemed healthy. Apparently it was pretty close to Thursday. Maybe Dennis Allen wished he had gone that way. Dalton started hot, but ruined the nearly nine-minute drive with a poor red-zone pick, followed by six-player picks in a row. The first was not his fault; The second was affected by the pressure. Still, it was a tough show for the failing Dalton (even while scoring four goals) and it was never a planned start in the beginning. The Saints definitely need to find out if Winston has a future there and time is running out as the team drops to 2-5. Assuming he's healthy, the Saints have to go back to him.
The Saints bottomed out in the endorsement department. The Saints came in last in the NFL's highest turnover (13) and turnover rate (minus-7). That number reached minus 10 at halftime, completely stopping the early game momentum they had established. Dalton's first pick prevented the Saints from taking a 14-3 lead; in the blink of an eye a few times and they were two points down. Much of this is clearly related to the Saints offense, as the quarterbacks alone had 10 turnovers in seven games. But the defense could do its part to help out and steal a few shots from time to time. After creating three turnovers in the first two games, the unit has since made just three turnovers in five games. Of course, this group was knocked down due to injuries, especially on the rear end. But one or two turnovers created in this game could have changed the scenario and perhaps kept them in the game longer.
Cardinals need to give Eno Benjamin more chances. There was a quiet buzz at Cardinalsdom prior to last week's game against the Seahawks, with news that Benjamin could benefit from his starting post following James Conner's injury. This never happened because Benjamin was flanked by what was a bad Seattle run defense (15 carries for 37 yards). But on Thursday, Benjamin was a force. The ball-breaking running style he patented just down the road at Arizona State was on full display, as the Saints regularly dragged their defenders extra yards on their way to a 12-carry, 92-yard, single TD run performance. four grabs. Benjamin is buried in the depth chart, but even with Conner back, he deserves a role. It works very well and purposefully for a Cardinals offense that needs a clear identity.
Next-Gen state of the game: The Cardinals' Isaiah Simmons hit a top speed of 20.68 mph with Andy Dalton's six-choice top speed by a linebacker as a ball carrier this season. Simmons has clocked more than 20 mph six times in offensive play since 2020, most of all linebackers during that time.
NFL Research: Saints WR Rashid Shaheed became the second player to score more than 40 yards in the first two offensive games of his career since 1991. The last to do this? Cardinals WR Marquise Brown, who made a rookie with Baltimore.